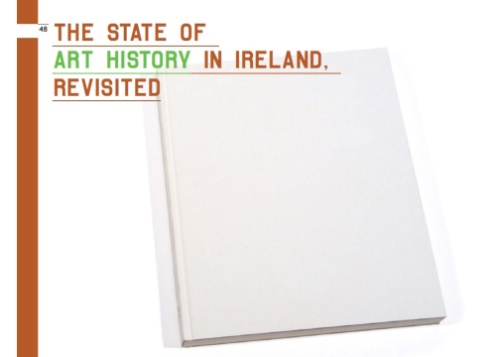 This is a pair of essays on the state of art history in Ireland, written when I joined the faculty of University College Cork in 2003. The second essay was a kind of farewell, written when I left that job in 2006. It provoked a number of essays (to which I wrote a final response), which are not uploaded here, but are available online.
The first essay is about Irish art history, but it is also intended as a way of thinking about how art history is taught in a number of smaller countries in the developed world. North American universities often have the luxury of hiring faculty who can cover large portions of the world. Smaller countries, including many in Europe, don't have that capacity. The essay is an attempt to assess the possibilities when the pressure to "cover the world" comes mainly from the outside. In addition, smaller countries often have lower budgets and fewer faculty who travel internationally; the result can be conservative, regionally-based curricula that are not always in touch with current international concerns.
There are three texts:
1. The original essay: "The State of Irish Art History," Circa [Dublin] 106 (2003): 56–59.
2. The farewell essay: "The State of Irish Art History Revisited," Circa 116 (summer 2006)
3. The "Response" [to eight letters responding to the original essay, by Joan Fowler, Lucy Cotter, Maeve Connolly, Mia Lerm Hayes, Róisín Kennedy, Rosemarie Mulcahy, Sheila Dickinson, and Siún Hanrahan], Circa 118 (winter 2006): 45-47.